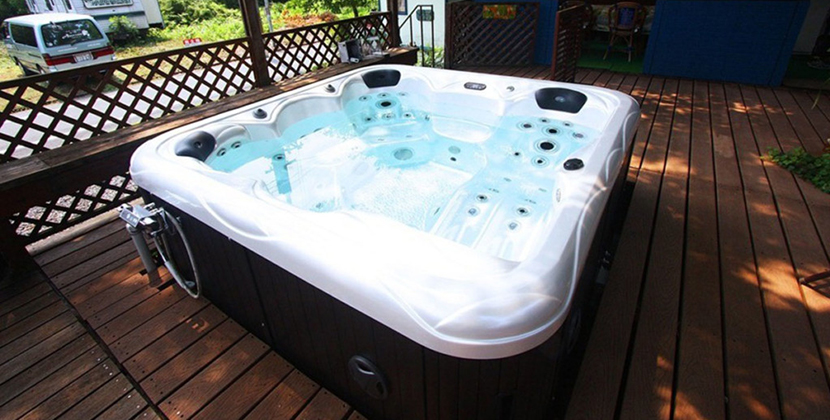 Are China-made tubs any good?
Sometime during the 1980s, poorly-made Chinese products have started entering the international market. Since then, products made in China including bathtubs and all its variants are often criticized and associated with poor quality.
Unbeknownst to most people, one of the major contributors of low-grade Chinese items is the importers' demand for a lower price. In turn, suppliers source out lower-grade materials to cover lower margins.
But… Should you be bothered?
Let's get this straight:
Chinese suppliers can provide low-quality spas as well as high-quality ones.
What's important is that you know what to look for and what to specify from the supplier.
Here are 5 items you should consider when buying hot tubs from China:
1. Product Certification
Once you have found a capable supplier, the first thing you should check for is product certifications.
The reason? A lot of Chinese manufacturers are unable to comply with foreign product standards. If you're planning to buy from a manufacturer who supplies the Chinese domestic market, chances are, their products aren't certified.
The Importance of Product Certification
Ferret, Australia's leading hub for different industries, best describes the importance of checking for product certification:
"Product certification confirms that a product meets the necessary local, national or international quality standards relevant to a particular market or product set."
A certification mark represents the approval of an organization with national and international accreditation in regards to the product's quality. The marks assure the items from the supplier are safe to use since it has passed national and international standards.
Buyers and importers, especially first-timers, assume that Chinese suppliers readily seek to gain certifications for the product. If you have found a supplier and their hot tubs don't have certifications, you have 2 choices. You can ask them to comply and have the products tested, or you find a new supplier.
If the supplier agrees to have the products tested (with the importer paying the testing bill), the products would undergo a lot of testing:
Substances testing
Electrical safety testing
Mechanical and physical testing
If you're curious about the cost, individual electrical components testing cost around 10 USD while complex testing could run to thousands of dollars.
The accredited certification organization would then set out tolerances and conditions of use for the certified products.
General Regulations in Europe and the United States
For your information, here are general regulations for Europe and the United States you should be aware of:
Europe
CE: Mandatory conformity marketing
GS: Issued by a 3rd-party laboratory; recommended if products are sold as a retailer or to retailers
R&TTE: Covered within a GS or CE certification
LVD (Low Voltage Directive): Required by law
EMC (Electro Magnetic Compatibility): Some CE certification include EMC testing
RoHS (Restriction of Hazardous Substances) Directive: Regulates the allowed content of Lead, Mercury, Cadmium, Chromium, PBB, and PBDE within the product
REACH Directive: Upgrade of RHS
WEEE (Waste Electrical and Electronics Equipment) Directive: Mandatory to be fulfilled by the manufacturer
United States
FCC: Regulates anything electronic
UL: A seal that consumers appreciate
RoHS (Restriction of Hazardous Substances) Directive: Regulates the allowed content of Lead, Mercury, Cadmium, Chromium, PBB, and PBDE within the product
Failure to present the necessary test reports or certificates of compliance may result in custom authorities refusing entry of your hot tubs. It's illegal to sell and lease uncompliant products. In the worst cases, non-compliance could result in fines, forfeiture, and other actions.
According to FCC's Equipment Marketing Violations:
"No person shall manufacture, import, sell, offer for sale, or ship device or home electronic equipment and systems, or use devices, which fail to comply with regulations promulgated pursuant to this section. [Section 302(b) of the Communications Act]"
Key Takeaway: Make sure to check for product certifications in the hot tubs to ensure they meet national and international standards and quality. Failure to do so could result in disappointment due to the low-quality of the hot tub. Plus, it's also illegal to sell and lease uncompliant products.
2. The Control System of Hot Tubs and Spas
An outdoor spa without a control system is a dead spa. It's the central hub where you control everything. The system is the soul of a hot tub.
When buying a Chinese-made hot tub, you should look for the control system being used. The basic functions — what your jacuzzi can do — are realized by the Control system.
There are two main systems in Chinese-made tubs today:
Self-Developed System
A self-developed control system is simply just that — a system made by the manufacturers.
This type of system is operational on the basic level. In addition, some manufacturers put add-on functions like a sound system and Bluetooth to the system.
Because a self-developed system is made locally and usually, there's no brand associated with it, they are cheap. They are also easy to operate and user-friendly to non-techy users.
The downside is, self-developed systems are usually made with immature technology. They are prone to system failure and damage from water. As you know, electronics and water don't mix up. That makes self-developed systems dangerous.
When a self-developed system breaks down, it would be hard for you to find a replacement. Your only choice is to either get the manufacturer to fix it or find someone capable of repairing such a system.
Tip: If you want to choose this control system, in addition to the hot tub standard functions, it is best not to include the sound system and other options.
Imported System
This type of system is made by well-known brands like Balboa, Gecko, and Spanet.
In general, imported systems are not user-friendly. Newer models though have more intuitive controls.
In contrast with self-developed systems, imported systems mostly include basic functions. If you want to add other functions like audio, you need to install them separately.
Because well-known brands use and make them, you can expect stable and high-quality systems. If something broke down, you can easily find a replacement from almost anywhere in the world. Suppliers usually have after-sales customer service you can contact in case there's a problem.
Imported systems are expensive and the cost of replacement gets higher after the warranty period.
Key Takeaway: Self-developed systems are cheap. However, there are risks you should consider. Imported systems are expensive but the quality is of a high standard. If you got enough budget, go with an imported system.
3. Acrylic
Hot tubs and outdoor spas manufactured in China are basically made from acrylic panels. Acrylic sheets used to form these panels in China are imported from the United States.
If you're familiar with acrylic materials, you'd notice that they are smooth. Acrylic plated hot tubs have a smooth non-porous surface which has good heat-retaining properties. In comparison with other materials, acrylic tubs keep the water warm for longer periods which is ideal for hot tub lovers.
Not only are acrylic tubs good for winter but they're also great outdoors. Acrylic is ultra-violet light resistant. It takes no damage and won't turn to yellow even when exposed in too much sunlight.
The acrylic material is smooth and stain resistant. Cleaning them is easy. You have to be careful though. Acrylic plates are easily scratched or chipped. Don't expose them to abrasive chemicals.
Tip: If you notice scratches, patch them by applying acrylic filler. Then, sand them until they're smooth.
Chinese Acrylics
China-made acrylic plates are inferior to imported ones though they are cheaper. In addition, the glossiness from Chinese-made plates is not as good as Imported ones.
Acrylic plates made in China have less ductility. They are harder to shape during the pressing process which leads to high scrap rate. But once they are successfully shaped, there seems to be no problem afterward. All of these happen during the manufacturing stage.
What you have to watch out though is tub body blistering. Blistering happens due to the formation of fluid pressure in an empty space at the back of the surface. On acrylics, the fluid pressure comes from the reaction of water with polyester resin components.
Small blisters on tub body don't affect the experience. But the look the blisters give on the tubs would certainly raise a few eyebrows. However, when the blisters are big, they often lead to larger problems in the future. There may be cracks which would result in leakage. Watch out for big blisters on the tub body.
Here's how tub body blisters look like: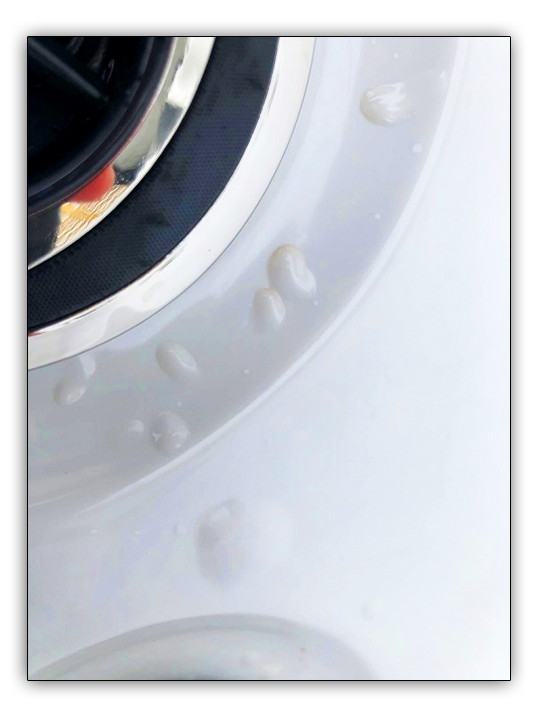 Key Takeaway: When buying China-made tubs, check the acrylic coating for blisters. Specifically, be alert for large blisters as they might result in leakages.
4. Leakage Problem in Tubs and Spas
One of the most common problems with outdoor spas and hot tubs is water leakage. With the amounts of water used, leaks cause serious problems including thousands of dollars in damage.
The type of leakage that usually happens to hot tubs and outdoor spas are drain leaks. Leaks happen when there are loose drain pipes below the tub causing dripping leaks.
If the pipes aren't well-sealed, the high water pressure could cause loosening between pipes. So make sure to check the material connecting the pipes.
If the manufacturers used only glue, the chance of drain leakage is high. When the hot tub is used for a long time, chances of loosening increases too.
Here's what it looks like when only glue is used: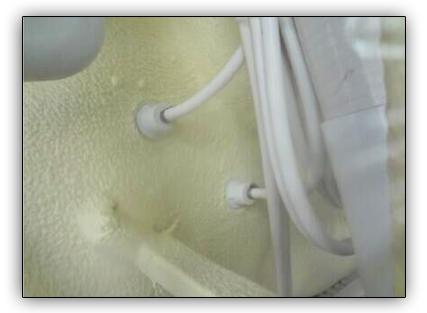 If this is the case, you have three choices:
Find another supplier
Instruct the supplier to add pipes and clamps (additional costs)
Ensure there's an after-sales customer service that covers leakages
Tip: Check the materials used to seal and connect the pipes.
If there are pipe clamps or clips covering the glued sections in between pipes, leakages are unlikely to happen. It's recommended to regularly check for loose pipe clips to prevent any leakage.
Here's how a secured pipe on a hot tub looks like with clip and glue: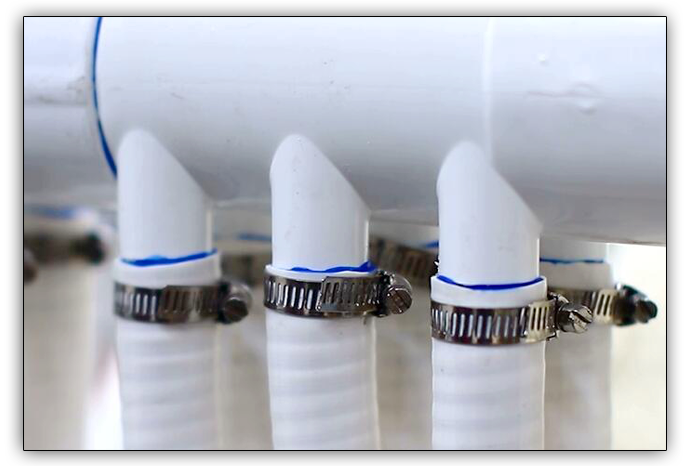 Key Takeaway: Always check the materials used in connecting the pipes. If there's only glue sealing the pipes without any support like clamps or clips, make sure the supplier's after-sales customer service covers leakages. The best combination to prevent drain leakages is having clips on the glued sections.
5. After-Sales Issues
Buyers often have a negative experience in regards to after-sales customer service from suppliers. Many times, buyers often ignore after-sale terms and warranties until problems arise.
It's true:
The after-sales service doesn't really affect the quality of the tub. However, the after-sales terms and services heavily affect the subsequent costs.
During negotiations, suppliers often tell you the general terms:
Cylinder block warranty
Systems warranty
Structural warranty
And others
But what you really have watch out for is the writing on the terms. Don't rely on the word of mouth alone. Check the papers and see what's lacking. Make sure terms and warranties cover the essential parts and look at for the specifics like how many years and causes of damage.
Tip: Know the specifics about the terms of after-sales services and warranties.
In addition, research how well your supplier handles customer service. One way you can do this is by checking for reviews from previous buyers. At least, you should have answers to these questions:
How well do they communicate after-sales? Do they even establish a connection with the buyer?
What do they do in case there's a problem like a unit needing replacement?
How fast do they respond?
How long does it take for them to take action after their first response?
Do their previous buyers trust them?
Once you have this covered and assuming most responses are positive, you can sit back knowing that you and the tubs are in good hands.
Key Takeaway: When dealing with hot tub suppliers from China, always make sure you study and cover the terms and conditions of their after-sales services. If you ignore this, you might still have a good quality spa but you'll suffer the consequence once something breaks down. Get to know your supplier.
Conclusion
The quality of the tubs you buy from China heavily depends on how much you know about the item. Like any other, Chinese suppliers both produce bad and good quality tubs. But if you know what to look for, you'll have a higher chance of buying high-quality ones.